Posterior Fossa Tumors in Infants: 13-year single center retrospective review.
Keywords:
pediatric posterior fossa tumors, infratentorial tumors, infant tumors, embryonal tumors
Abstract
Introduction/Background: Central nervous system (CNS) tumors in infants are rare, ranging between 1 and 10% of all pediatric CNS tumors. The infratentorial location is a challenge to neuro-oncologist and -surgeons due their subtle clinical presentation, different histopathological types, biological behaviors, and anesthetic-surgery difficulties.
Methods: Single center retrospective study of infants diagnosed with posterior fossa tumors between 2010 and 2023.
Results: Nineteen patients were included. Mean age 8.8 months; eight males. The most common presenting symptom was torticollis (n-6, 31.6%), followed by vomiting (n-3, 15.8%) and increased head circumference (n-3, 15.8%). Atypical Teratoid Rhabdoid Tumor (AT/RT) was the most common subtype (n-11, 57.9%), followed by Medulloblastoma (MB). Metastatic disease at diagnosis was evident in five cases. Seventeen patients initially underwent correction of hydrocephalus. Regarding surgical resection, one (5.3%) patient underwent biopsy, 13 (68.4%) complete resection, four (21%) partial resection. Only one patient, diagnosed with ependymoma, did not receive chemotherapy after surgery, 14/19 received high-dose chemotherapy, eight of these followed by autologous bone marrow transplantation (ABMT). Focal radiotherapy (RT) was performed in four patients with AT/RT and in one ependymoma, following ABMT and complete resection, respectively. Event-free survival at 2 and 5 years was 64.9% and overall survival 63.2% and 54.2% respectively.
Conclusion: Despite aggressive histological subtypes, neurosurgical challenges, and limitation of adjuvant therapy, we have shown acceptable survival rates in this challenging group of patients showing the importance of appropriate supportive care, improvement in surgical techniques and a multi-professional approach.
Downloads
Download data is not yet available.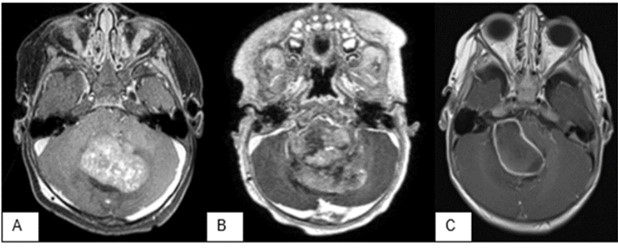 Additional Files
How to Cite
1.
Dassi N, de Aguiar CS, Dastoli P, Silva NS, Cavalheiro S, Cappellano AM. Posterior Fossa Tumors in Infants: 13-year single center retrospective review. Arch Pediatr Neurosurg [Internet]. 2023 Sep. 13 [cited 2023 Dec. 6];5(3):e2062023. Available from: https://archpedneurosurg.com.br/sbnped2019/article/view/206
License
Copyright (c) 2023 Natália Dassi, Carolina Silva de Aguiar, Patricia Dastoli, Nasjla S Silva, Sergio Cavalheiro, Andrea M Cappellano
This work is licensed under a Creative Commons Attribution 4.0 International License.
When publishing in Archives of Pediatric Neurosurgery journal, authors retain the copyright of their article and agree to license their work using a Creative Commons Attribution 4.0 International Public License (CC BY 4.0), thereby accepting the terms and conditions of this license (https://creativecommons.org/licenses/by/4.0/legalcode).
The CC BY 4.0 license terms applies to both readers and the publisher and allows them to: share (copy and redistribute in any medium or format) and adapt (remix, transform, and build upon) the article for any purpose, even commercially, provided that appropriate credit is given to the authors and the journal in which the article was published.
Authors grant Archives of Pediatric Neurosurgery the right to first publish the article and identify itself as the original publisher. Under the terms of the CC BY 4.0 license, authors allow the journal to distribute the article in third party databases, as long as its original authors and citation details are identified.