Tips and Tricks in Difficult ETV
Keywords:
Tips and Tricks, Neuroendoscopy, Third Ventriculostomy
Abstract
The neuroendoscopy is supported by three pivotal pillars: training, planning, and prudence. The training consists of attending practical courses with synthetic head models for immersion in the intricate ventricular anatomy and practice in handling the neuroendoscope. The planning begins with the choice of the entry point, usually performed at the Kocher's point, and measurement of this to the ventricle. Neuroendoscopy in intraventricular hemorrhage or ventriculitis is always challenging due to low visibility, thus, copious irrigation with a heated solution at 37°C, like plasma type, is mandatory, often reaching 6L of solution. Narrow spaces between the clivus and basilar artery can be very dangerous, therefore we prefer a "Sputnik" fórceps rather than blunt instruments to open the floor of the III ventricle and subsequently widen it with Fogarty n°3. Sometimes it is necessary to mechanically remove the larger clots that do not come off the ventricle walls only with irrigation; in these cases, we aspirate them through the neuroendoscope until we see the structures that allow us to perform ETV and guarantee its patency. Navigating inside the ventricle when the complex anatomy is distorted, such as cases of myelomeningoceles with large interthalamic masses, can be very difficult; for these cases, we use the optics inversion technique to access different locations with the same field of view. The innovation in neuroendoscope models allowed us to associate techniques, such as the concomitant use of an ultrasonic aspirator to remove intraventricular lesions. Another field of great development was fetal surgery for hydrocephalus; initially with cephalocenteses passing through the ventriculo-aminiotic shunt until the fetal ETV. For complex cases of the second look of ETV, we can still associate techniques such as aqueductoplasty and implantation of stents in the third ventricular floor and cerebral aqueduct to keep them patent. Last but not least, we have the pillar of prudence. Any neuroendoscopy, regardless of the surgeon's experience or the apparent simplicity of the case, must be done with the utmost caution, avoiding minimal bleeding, avoiding touching structures that are not vital to the procedure, and be objective.
Downloads
Download data is not yet available.
References
Cavalheiro S, Moron AF, Almodin CG, Suriano IC, Hisaba V, Dastoli P, Barbosa MM. Fetal hydrocephalus. Childs Nerv Syst. 2011 Oct;27(10):1575-83. doi: 10.1007/s00381-011-1539-1. Epub 2011 Sep 17. PMID: 21928023.
Thomale UW, Cinalli G, Kulkarni AV, Al-Hakim S, Roth J, Schaumann A, Bührer C, Cavalheiro S, Sgouros S, Constantini S, Bock HC. TROPHY registry study design: a prospective, international multicenter study for the surgical treatment of posthemorrhagic hydrocephalus in neonates. Childs Nerv Syst. 2019 Apr;35(4):613-619. doi: 10.1007/s00381-019-04077-4. Epub 2019 Feb 6. PMID: 30726526.
da Silva LR, Cavalheiro S, Zymberg ST. Endoscopic aqueductoplasty in the treatment of aqueductal stenosis. Childs Nerv Syst. 2007 Nov;23(11):1263-8. doi: 10.1007/s00381-007-0393-7. Epub 2007 Aug 4. PMID: 17676325.
Gorayeb RP, Cavalheiro S, Zymberg ST. Endoscopic third ventriculostomy in children younger than 1 year of age. J Neurosurg. 2004 May;100(5 Suppl Pediatrics):427-9. doi: 10.3171/ped.2004.100.5.0427. PMID: 15287449.
Schroeder HW. Intraventricular tumors. World Neurosurg. 2013 Feb;79(2 Suppl):S17.e15-9. doi: 10.1016/j.wneu.2012.02.023. Epub 2012 Feb 10. PMID: 22381840.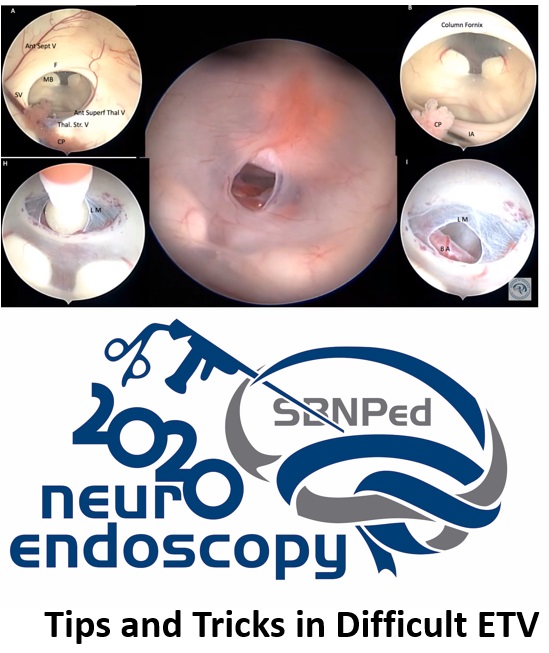 Downloads
How to Cite
1.
Cavalheiro S. Tips and Tricks in Difficult ETV. Arch Pediat Neurosurg [Internet]. 2021 Jan. 31 [cited 2022 May 17];3(1(January-April):e782021. Available from: https://archpedneurosurg.com.br/pkp/index.php/sbnped2019/article/view/78
Section
Clinical Video Lecture
License
Copyright (c) 2021 Sérgio Cavalheiro
This work is licensed under a Creative Commons Attribution 4.0 International License.
When publishing in Archives of Pediatric Neurosurgery journal, authors retain the copyright of their article and agree to license their work using a Creative Commons Attribution 4.0 International Public License (CC BY 4.0), thereby accepting the terms and conditions of this license (https://creativecommons.org/licenses/by/4.0/legalcode).
The CC BY 4.0 license terms applies to both readers and the publisher and allows them to: share (copy and redistribute in any medium or format) and adapt (remix, transform, and build upon) the article for any purpose, even commercially, provided that appropriate credit is given to the authors and the journal in which the article was published.
Authors grant Archives of Pediatric Neurosurgery the right to first publish the article and identify itself as the original publisher. Under the terms of the CC BY 4.0 license, authors allow the journal to distribute the article in third party databases, as long as its original authors and citation details are identified.