Posterior interhemispheric approach for surgical removal of a choroid plexus papilloma in the ventricular atrium.
Keywords:
Posterior interhemispheric approach, choroid plexus papiloma, pediatric neurosurgery
Abstract
A 12 year-old boy with headaches for 2 months. Magnetic resonance imaging of the brain found a small lesion in the atrium of the right lateral ventricle. We show a posterior interhemispheric approach to the ventricular atrium through a corticotomy in the pre-cuneus and the posterior cingulate gyrus. This approach has the advantage of avoiding lesion to the optic radiation. A complete resection of the lesion was performed without complications. Anatomopathological result showed choroid plexus papilloma. This benign tumor corresponds to less than 1% of brain tumors and typically presents with signs of intracranial hypertension with hydrocephalus.
Downloads
Download data is not yet available.
References
Yasargil MG: Microneurosurgery, vol 4B. Stuttgart: Georg Thieme Verlag, 1996:56-57.
Geyik M, Erkutlu I, Alptekin M, et al. Parieto-Occipital Interhemispheric Precuneal Approach to the Lesions of the Atrium: Experience with 66 patients. Turk Neurosurg. 2017;27(3):325-332. doi:10.5137/1019-5149.JTN.16296-15.1.
Otani N, Wada K, Toyooka T, Mori K. Occipital Interhemispheric Approach for Surgical Removal of the Middle Third Falx Meningioma: Two Case Reports. Asian J Neurosurg. 2018;13(3):789-791. doi:10.4103/ajns.AJNS_158_16.
De Oliveira JG, Párraga RG, Chaddad-Neto F, Ribas GC, de Oliveira EP. Supracerebellar transtentorial approach-resection of the tentorium instead of an opening-to provide broad exposure of the mediobasal temporal lobe: anatomical aspects and surgical applications: clinical article. J Neurosurg. 2012;116(4):764-772. doi:10.3171/2011.12.JNS111256.
Joseph JJ, M Das J. Choroid Plexus Papilloma. In: StatPearls. Treasure Island (FL): StatPearls Publishing; October 13, 2020.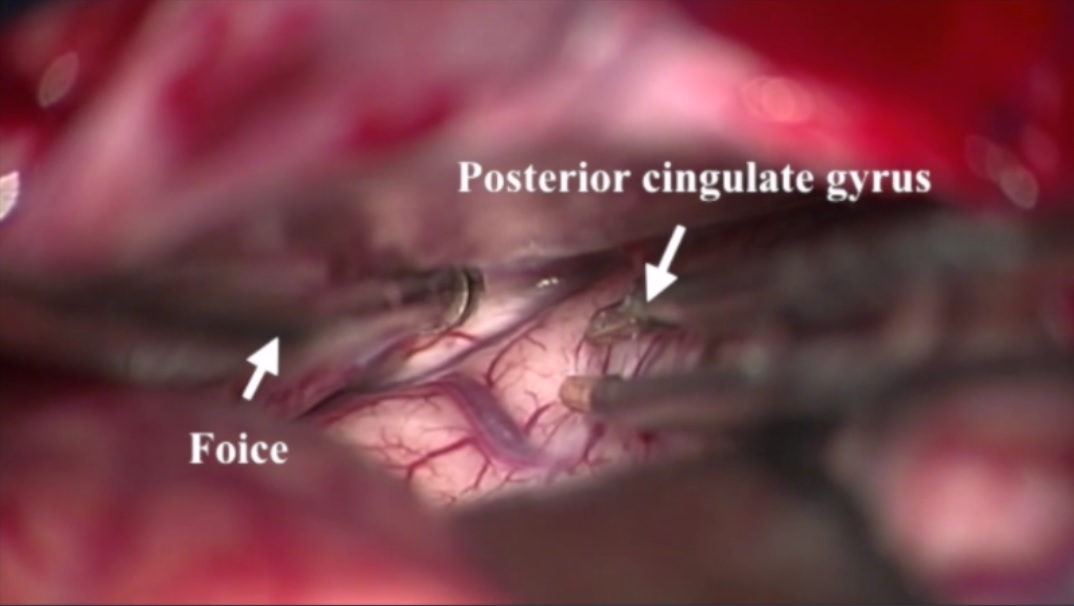 Downloads
How to Cite
1.
Pereira Eismann MR, De Mello Mussi AC. Posterior interhemispheric approach for surgical removal of a choroid plexus papilloma in the ventricular atrium. Arch Pediat Neurosurg [Internet]. 2020 Dec. 18 [cited 2022 May 17];3(1(January-April):e632020. Available from: https://archpedneurosurg.com.br/pkp/index.php/sbnped2019/article/view/63
License
Copyright (c) 1969 Marcos Rodrigo Pereira Eismann, Antônio Cesar De Mello Mussi
This work is licensed under a Creative Commons Attribution 4.0 International License.
When publishing in Archives of Pediatric Neurosurgery journal, authors retain the copyright of their article and agree to license their work using a Creative Commons Attribution 4.0 International Public License (CC BY 4.0), thereby accepting the terms and conditions of this license (https://creativecommons.org/licenses/by/4.0/legalcode).
The CC BY 4.0 license terms applies to both readers and the publisher and allows them to: share (copy and redistribute in any medium or format) and adapt (remix, transform, and build upon) the article for any purpose, even commercially, provided that appropriate credit is given to the authors and the journal in which the article was published.
Authors grant Archives of Pediatric Neurosurgery the right to first publish the article and identify itself as the original publisher. Under the terms of the CC BY 4.0 license, authors allow the journal to distribute the article in third party databases, as long as its original authors and citation details are identified.