Cerebellar Mutism after posterior fossa tumor surgery: is it predictable, preventable, treatable?
Keywords:
Posterior fossa tumor, cerebellar mutism, rehabilitation
Abstract
Introduction: Posterior fossa tumors pose challenges in pediatric neurosurgery and can lead to complications such as cerebellar mutism, affecting speech and motor abilities. This study aims to describe the evolution of cerebellar mutism and identify relevant factors in its pathophysiology and prognosis.
Methods: A review was conducted on three cases of children who underwent surgery for posterior fossa tumors by the same surgical team and developed postoperative cerebellar mutism. The study analyzed preoperative clinical presentation, mutism manifestation, and recovery. Additionally, a literature review was performed on the emergence, evolution, and prognosis.
Results: Case 1 involved a 3-year-old girl with medulloblastoma who experienced mutism, behavioral changes, and self-mutilation after surgery. Symptoms resolved after one month but recurred with a subsequent operation, resolving again after a month. Case 2 featured a 15-year-old girl who developed severe posterior fossa syndrome, including mutism, dysarthria, aphasia, and motor impairments. With support care, she gradually improved over a year. Case 3 involved a 4-year-old boy with cerebral palsy and a posterior fossa tumor. He experienced akinetic mutism, resolved over time with rehabilitation therapies.
Discussion: Cerebellar mutism following posterior fossa surgery has implications for patient recovery. It primarily involves impairment of cerebellar outflow pathways rather than direct brainstem or cortical lesions. Identifying at-risk patients remains challenging, though younger age and specific tumor characteristics may increase the likelihood of mutism. Rehabilitation, including physical and speech therapies, plays a crucial role in promoting recovery. Effective communication and support for patients and their families are essential during the recovery process.
Downloads
Download data is not yet available.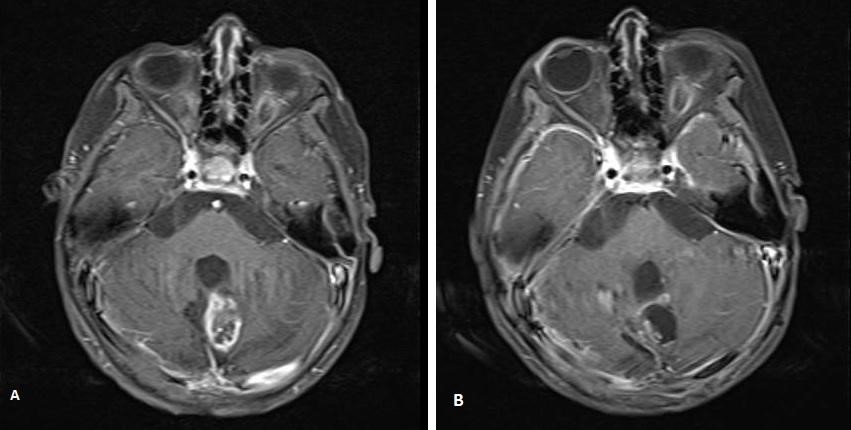 Additional Files
How to Cite
1.
Jucá CEB, Benevides Lima G, Munhoz PC de S, de Andrade PP, Ribeiro FGA, Lopes JP. Cerebellar Mutism after posterior fossa tumor surgery: is it predictable, preventable, treatable?. Arch Pediatr Neurosurg [Internet]. 2023 Sep. 13 [cited 2023 Dec. 6];5(3):e2082023. Available from: https://archpedneurosurg.com.br/sbnped2019/article/view/208
License
Copyright (c) 2023 Carlos Eduardo Barros Jucá, Gabrielle Benevides Lima, Pâmella Christine de Souza Munhoz, Patrícia Pereira de Andrade, Francisco Gleison Albuquerque Ribeiro, Júlia Praciano Lopes
This work is licensed under a Creative Commons Attribution 4.0 International License.
When publishing in Archives of Pediatric Neurosurgery journal, authors retain the copyright of their article and agree to license their work using a Creative Commons Attribution 4.0 International Public License (CC BY 4.0), thereby accepting the terms and conditions of this license (https://creativecommons.org/licenses/by/4.0/legalcode).
The CC BY 4.0 license terms applies to both readers and the publisher and allows them to: share (copy and redistribute in any medium or format) and adapt (remix, transform, and build upon) the article for any purpose, even commercially, provided that appropriate credit is given to the authors and the journal in which the article was published.
Authors grant Archives of Pediatric Neurosurgery the right to first publish the article and identify itself as the original publisher. Under the terms of the CC BY 4.0 license, authors allow the journal to distribute the article in third party databases, as long as its original authors and citation details are identified.