Review of surgical spproaches for posterior fossa tumors in pediatric population and illustrative cases
Keywords:
telovelar, supracerebellar infratentorial, occipital transtentorial, intraventricular endoscopy, combined aproches
Abstract
Introduction/Background: Posterior fossa tumors are common in the pediatric population, and various surgical approaches have been described to reach them based on their specific location. This paper aims to review the most common posterior fossa approaches in pediatric patients and present illustrative cases to provide insights into their successful application in specific clinical scenarios.
Case report:  Three cases are presented, each demonstrating a different approach and surgical outcome. Case 1 involved a telovelar approach for the resection of a medulloblastoma, resulting in complete removal without neurological deficits. Case 2 required a combination of telovelar and supracerebellar infratentorial approaches to achieve gross total resection of a pilocytic astrocytoma. In Case 3, an occipital transtentorial approach was utilized to access and completely resect an atypical teratoid rhabdoid tumor.
Connclusion:  The paper discusses the telovelar and transvermian approaches, the supracerebellar infratentorial approach, the transtentorial suboccipital approach, and intraventricular endoscopy as individual or combined approaches for posterior fossa tumors. The presented cases highlight the importance of tailoring the surgical approach to each patient and provide valuable insights for neurosurgeons managing similar clinical scenarios.
Downloads
Download data is not yet available.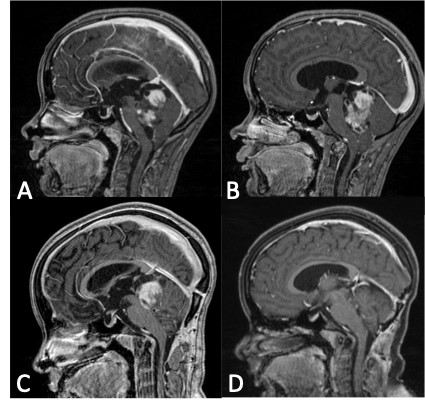 Additional Files
How to Cite
1.
Moreira AD, Bellas AR, Pousa M, Protzenko T. Review of surgical spproaches for posterior fossa tumors in pediatric population and illustrative cases. Arch Pediatr Neurosurg [Internet]. 2023 Sep. 20 [cited 2023 Dec. 6];5(3):e2022023. Available from: https://archpedneurosurg.com.br/sbnped2019/article/view/202
Section
Clinical Case Reports
License
Copyright (c) 2023 Alick Durão Moreira, Antonio Rosa Bellas, Marcelo Pousa, Tatiana Cervantes Protzenko
This work is licensed under a Creative Commons Attribution 4.0 International License.
When publishing in Archives of Pediatric Neurosurgery journal, authors retain the copyright of their article and agree to license their work using a Creative Commons Attribution 4.0 International Public License (CC BY 4.0), thereby accepting the terms and conditions of this license (https://creativecommons.org/licenses/by/4.0/legalcode).
The CC BY 4.0 license terms applies to both readers and the publisher and allows them to: share (copy and redistribute in any medium or format) and adapt (remix, transform, and build upon) the article for any purpose, even commercially, provided that appropriate credit is given to the authors and the journal in which the article was published.
Authors grant Archives of Pediatric Neurosurgery the right to first publish the article and identify itself as the original publisher. Under the terms of the CC BY 4.0 license, authors allow the journal to distribute the article in third party databases, as long as its original authors and citation details are identified.