Endoscopic Third Ventriculostomy and Aqueductal Stenosis
Keywords:
Neuroendoscopy, Hydrocephalus, Aqueductal Stenosis
Abstract
A 15 years-old male patient presented with a progressive headache for the last six months, followed by diplopia and dizziness.  Two months after he developed urinary incontinence. Neurological exam revealed an  ataxic gait, horizontal nystagmus, and hyperreflexia in all members. Magnetic Resonance imaging suggest obstructive hydrocephalus with third and laterals ventricles dilatation, associated with aqueductual stenosis. The patient was submitted to endoscopic third ventriculostomy, where was observed an accentuated depression on tuber cinereum and Mammillary bodies, caused by the hydrocephalus chronicity. The procedure was done without complications and results in total reversion of ataxia and urinary incontinence.
Downloads
Download data is not yet available.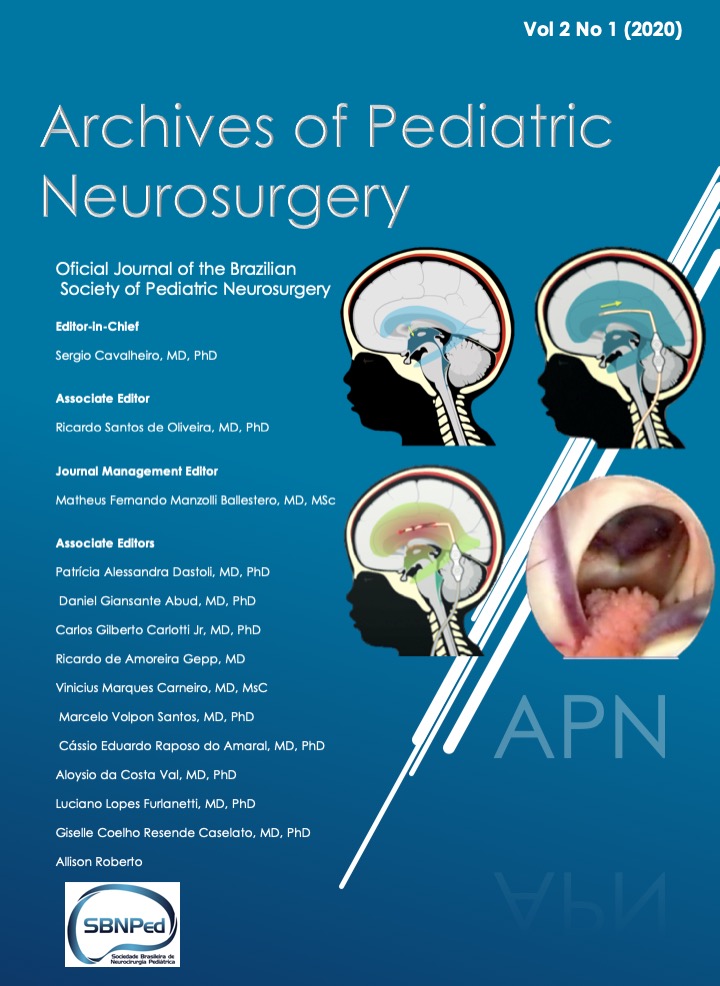 Downloads
Published
2020-04-01 — Updated on 2020-04-01
How to Cite
1.
da Silva Neto AR, Medeiros TDN, Paiva HLA, Pereira Sobrinho LB, Sales TDD, Bezerra EC do V. Endoscopic Third Ventriculostomy and Aqueductal Stenosis. Arch Pediat Neurosurg [Internet]. 2020 Apr. 1 [cited 2022 Jun. 26];2(1(January-April):57. Available from: https://archpedneurosurg.com.br/pkp/index.php/sbnped2019/article/view/19
License
Copyright (c) 2020 Angelo Raimundo da Silva Neto, Thomas Di Nardi Medeiros, Hugo Leandro Andrade Paiva, Leoberto Batista Pereira Sobrinho, Tulio Dias Duarte Sales, Eric Cymon do Vale Bezerra
This work is licensed under a Creative Commons Attribution 4.0 International License.
When publishing in Archives of Pediatric Neurosurgery journal, authors retain the copyright of their article and agree to license their work using a Creative Commons Attribution 4.0 International Public License (CC BY 4.0), thereby accepting the terms and conditions of this license (https://creativecommons.org/licenses/by/4.0/legalcode).
The CC BY 4.0 license terms applies to both readers and the publisher and allows them to: share (copy and redistribute in any medium or format) and adapt (remix, transform, and build upon) the article for any purpose, even commercially, provided that appropriate credit is given to the authors and the journal in which the article was published.
Authors grant Archives of Pediatric Neurosurgery the right to first publish the article and identify itself as the original publisher. Under the terms of the CC BY 4.0 license, authors allow the journal to distribute the article in third party databases, as long as its original authors and citation details are identified.