Torkildsen shunt as an option for hydrocephalus associated with optic pathway glioma
case report
Keywords:
Hydrocephalus, glioma, ventriculoperitoneal shunt, ascites, cerebrospinal fluid
Abstract
Hydrocephalus caused by optic pathway glioma (OPG) is most often treated with a ventriculoperitoneal shunt (VPS), but this treatment may present complications such as ascites. Hence, ventriculocisternal shunt is an option worth considering. This article reports a case in which it was decided to place a ventriculocisternal or Torkildsen shunt in a patient with hydrocephalus caused by OPG. Case Report: A 12-year-old girl, amaurotic, with a VPS due to hydrocephalus caused by an OPG, reported to the emergency room with abdominal distension and pain and difficulty in walking. Computed tomography of the abdomen was performed, and a large amount of fluid was evidenced in the peritoneal cavity (ascites). Liver and kidney functions were normal. In the surgical procedure, the distal extremity of the ventriculoperitoneal catheter was exposed, and 3 L of ascites fluid of cerebrospinal origin was drained. After 10 days of antibiotic therapy, a ventriculocisternal or Torkildsen shunt was placed. After 4 years of follow-up, the patient has no complaints. Discussion: Arne Torkildsen was the first to perform a ventriculocisternal shunt in 1937; it is indicated in cases of hydrocephalus with obstruction of the aqueduct or third ventricle. In OPG, increased protein levels in CSF and the use of platinum-based chemotherapy agents would explain the development of ascites after VPS placement. In these cases of hydrocephalus with third ventricle tumor infiltrating the hypothalamus, the ventriculocisternal shunt can be used as an option in specific cases.
Downloads
Download data is not yet available.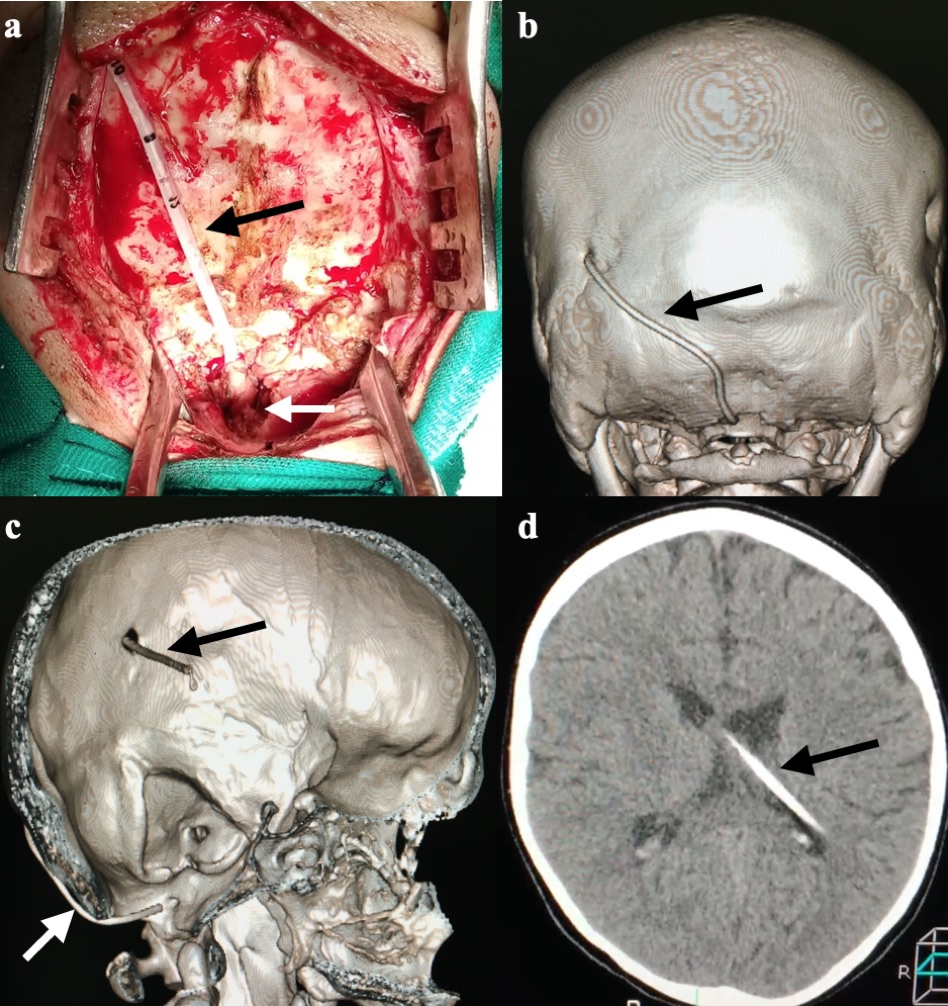 Downloads
How to Cite
1.
da Silva AJF. Torkildsen shunt as an option for hydrocephalus associated with optic pathway glioma: case report. Arch Pediat Neurosurg [Internet]. 2021 Jul. 13 [cited 2022 Jan. 24];3(3(September-December):e912021. Available from: https://archpedneurosurg.com.br/pkp/index.php/sbnped2019/article/view/91
Section
Clinical Case Reports
License
Copyright (c) 2021 Aldo José F da Silva
This work is licensed under a Creative Commons Attribution 4.0 International License.
When publishing in Archives of Pediatric Neurosurgery journal, authors retain the copyright of their article and agree to license their work using a Creative Commons Attribution 4.0 International Public License (CC BY 4.0), thereby accepting the terms and conditions of this license (https://creativecommons.org/licenses/by/4.0/legalcode).
The CC BY 4.0 license terms applies to both readers and the publisher and allows them to: share (copy and redistribute in any medium or format) and adapt (remix, transform, and build upon) the article for any purpose, even commercially, provided that appropriate credit is given to the authors and the journal in which the article was published.
Authors grant Archives of Pediatric Neurosurgery the right to first publish the article and identify itself as the original publisher. Under the terms of the CC BY 4.0 license, authors allow the journal to distribute the article in third party databases, as long as its original authors and citation details are identified.