The Covid-19 Outbreak and Pediatric Neurosurgery guidelines
Keywords:
Pediatric neurosurgery, Neurosurgery, COVID-19, Health care
Abstract
The latest threat to global health is the ongoing outbreak of the respiratory disease that was recently given the name Coronavirus Disease 2019 (Covid-19). Covid-19 was recognized in December 2019 [1]. It was rapidly shown to be caused by a novel coronavirus that is structurally related to the virus that causes severe acute respiratory syndrome (SARS). As in two preceding instances of emergence of coronavirus disease in the past 18 years [2] — SARS (2002 and 2003) and Middle East respiratory syndrome (MERS) (2012 to the present) — the Covid-19 outbreak has posed critical challenges for the public health, research, and medical communities.
The Brazilian Society for Pediatric Neurosurgery (SBNPed) announced that all elective surgeries, non-essential pediatric neurosurgeries be delayed during the 2020 Novel Coronavirus (COVID-19) outbreak (figure 1).
The recommendations provide a framework for hospitals and clinicians to implement immediately during the COVID-19 response, as more healthcare providers are increasingly being asked to assist with the COVID-19 response, it is critical that they consider whether non-essential surgeries and procedures can be delayed. The recommendations outline factors that should be considered for postponing elective surgeries. Those factors include patient risk factors, availability of beds, ventilators, staff and personal protective equipment (PPE), and the urgency of the procedure. This will help providers to focus on addressing more urgent cases and preserve resources needed for the
COVID-19 response. The decision about proceeding with non-essential surgeries and procedures will be made at the local level by the clinician, patient, parents, hospital, and state and local health departments.
To ensure planning strategies to carry out urgent/emergency operations during the pandemic. Rational: 1) to ensure an adequate treatment for patients, those with trauma, hemorrhage or severe infection, for example, who require immediate surgery; 2) to prepare and guide all the healthcare professionals on how to act, adequately protecting themselves with PPE; 3) to allow the minimum required people in the surgical room, thus preventing the risk of contamination of other individuals. In this regard, this is a mandatory perception of quality and safety initiatives not only for disasters and pandemics.
Some overarching principles for all cases include the following:
Be aware that while some of the following triaging guidelines include a "Level 1" (e.g., lowest level of COVID-19 acuity) in the recommendations, one must be aware that the rates of COVID-19 are predicted to skyrocket in this year, and the overarching recommendation is to prepare for markedly increased rates when triaging elective cases at present.
Patients should receive appropriate and timely surgical care, including operative management, based on sound surgical judgment and availability of resources.
Consider nonoperative management whenever it is clinically appropriate for the patient.
Consider waiting on results of COVID-19 testing in patients who may be infected.
Avoid emergency surgical procedures at night when possible due to limited team staffing.
Aerosol generating procedures (AGPs) increase risk to the health care worker but may not be avoidable. For patients who are or may be infected, AGPs should only be performed while wearing full PPE including an N95 mask or powered, air-purifying respirator (PAPR) that has been designed for the OR. Examples of known and possible AGPs include: intubation, tracheostomy.
Downloads
Download data is not yet available.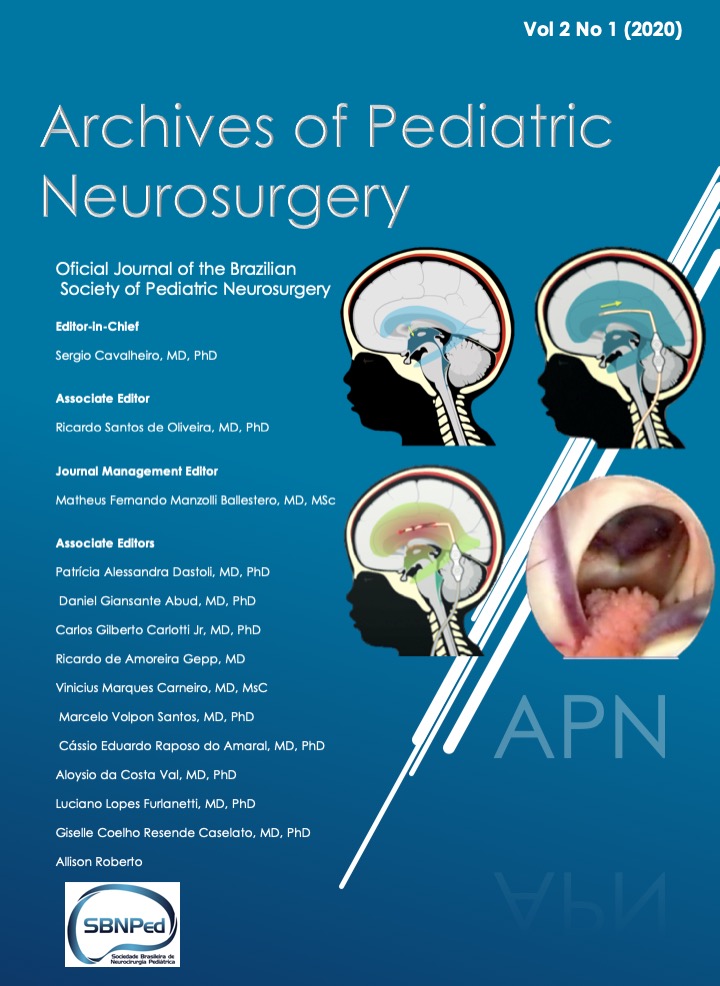 Additional Files
Published
2020-04-01 — Updated on 2020-04-01
How to Cite
1.
de Oliveira RS, Ballestero MFM. The Covid-19 Outbreak and Pediatric Neurosurgery guidelines . Arch Pediat Neurosurg [Internet]. 2020 Apr. 1 [cited 2022 Aug. 17];2(1(January-April):53-4. Available from: https://archpedneurosurg.com.br/pkp/index.php/sbnped2019/article/view/26
License
Copyright (c) 2020 Ricardo Santos de Oliveira, Matheus Fernando Manzolli Ballestero
This work is licensed under a Creative Commons Attribution 4.0 International License.
When publishing in Archives of Pediatric Neurosurgery journal, authors retain the copyright of their article and agree to license their work using a Creative Commons Attribution 4.0 International Public License (CC BY 4.0), thereby accepting the terms and conditions of this license (https://creativecommons.org/licenses/by/4.0/legalcode).
The CC BY 4.0 license terms applies to both readers and the publisher and allows them to: share (copy and redistribute in any medium or format) and adapt (remix, transform, and build upon) the article for any purpose, even commercially, provided that appropriate credit is given to the authors and the journal in which the article was published.
Authors grant Archives of Pediatric Neurosurgery the right to first publish the article and identify itself as the original publisher. Under the terms of the CC BY 4.0 license, authors allow the journal to distribute the article in third party databases, as long as its original authors and citation details are identified.