Microsurgical repair of a Terminal Myelocystocele: 2D operative video
Keywords:
Dysraphism, Myelocystocele, Lumbosacral mass
Abstract
An 8-month-old boy was referred to our department with a protruding soft mass in the lumbosacral region since birth, with intact overlying skin. The patient had clubfoot, and congenital scoliosis. On neurological examination, he had preserved muscle strength, but evolved with distal weakness and increasing in the lumbar mass volume. MRI confirmed the diagnosis of terminal myelocystocele by the typical finding of a trumpet-like flaring meningocele. Terminal myelocystocele classically presents as a large lumbosacral mass with skin cover, containing fat, cerebrospinal fluid, and neural tissue1,2. The spinal cord herniates through the dysraphic spine and terminates at a neural placode, whereas the central canal opens into a CSF-filled, ependyma-lined cavity3. We present a 2D operative video comprising microsurgical repair of the defect, resection of the nonfunctional caudal cyst wall, reconstruction of the proximal neural placode, and duroplasty.
Downloads
Download data is not yet available.
References
McLone DG, Naidich TP: Terminal myelocystocele. Neurosurgery 16:36–43, 1985.
Gupta DK, Ramdurg S, Mahapatra AK: Giant terminal lipomyelocystocele. Pediatr Neurosurg 42:49–53, 2006.
Pang D, Zovickian J, Lee JY, Moes GS, Chang K. Terminal myelocystocele: surgical observations and theory of embryogenesis. Neurosurgery 70(6):1383-404, 2012.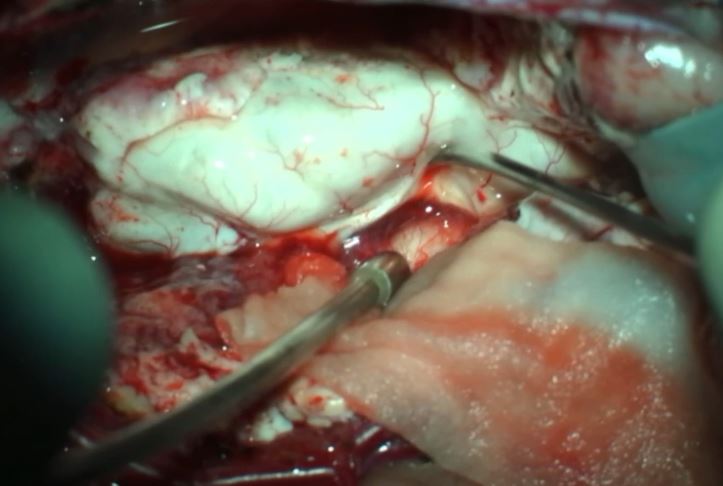 Downloads
How to Cite
1.
Formentin C, Matias LG, Joaquim AF, Ghizoni E. Microsurgical repair of a Terminal Myelocystocele: 2D operative video. Arch Pediat Neurosurg [Internet]. 2022 May 15 [cited 2022 Jun. 26];:e1392022. Available from: https://archpedneurosurg.com.br/pkp/index.php/sbnped2019/article/view/139
License
Copyright (c) 2022 Cleiton Formentin, Leo Gordiano Matias, Andrei Fernandes Joaquim, Enrico Ghizoni
This work is licensed under a Creative Commons Attribution 4.0 International License.
When publishing in Archives of Pediatric Neurosurgery journal, authors retain the copyright of their article and agree to license their work using a Creative Commons Attribution 4.0 International Public License (CC BY 4.0), thereby accepting the terms and conditions of this license (https://creativecommons.org/licenses/by/4.0/legalcode).
The CC BY 4.0 license terms applies to both readers and the publisher and allows them to: share (copy and redistribute in any medium or format) and adapt (remix, transform, and build upon) the article for any purpose, even commercially, provided that appropriate credit is given to the authors and the journal in which the article was published.
Authors grant Archives of Pediatric Neurosurgery the right to first publish the article and identify itself as the original publisher. Under the terms of the CC BY 4.0 license, authors allow the journal to distribute the article in third party databases, as long as its original authors and citation details are identified.