A Large traumatic middle cerebral artery aneurysm in a Child: case report and review of literature
Keywords:
Dissecting aneurysm, middle cerebral artery, endovascular, pediatric aneurysms
Abstract
A 6-year-old girl presented with a very large aneurysm of the distal branch of middle cerebral artery( angular artery). There was a previous history of mild traumatic brain injury. The presentation happened more than 5 weeks after the trauma with an  atypical visual complaint. She was successfully treated by embolization and occlusion of the parental vessel. Recognizing pos traumatic aneurysm is a challenging in young child and must be remembered in patients with a recent traumatic event. Endovascular treatment is a good option when the occlusion of the artery is possible in the presence of a good collateral circulation.
Key-words: Dissecting aneurysm; middle cerebral artery; endovascular; pediatric aneurysms
Downloads
Download data is not yet available.
References
References
Koyama S, Kotani A, Sasaki J. Spontaneous dissecting aneurysm of the anterior cerebral artery: report of two cases. Surg Neurol. 1996;46(1):55-61.
Pinto FC, Valiengo L, Santos PP, Matushita H, Plese JP. Intracranial arterial aneurysms in childhood: case report. Arquivos de neuro-psiquiatria. 2006;64(3A):676-80.
Xu R, Xie ME, Yang W, Gailloud P, Caplan JM, Jackson CM, et al. Epidemiology and outcomes of pediatric intracranial aneurysms: comparison with an adult population in a 30-year, prospective database. J Neurosurg Pediatr. 2021:1-10.
Krings T, Geibprasert S, terBrugge KG. Pathomechanisms and treatment of pediatric aneurysms. Childs Nerv Syst. 2010;26(10):1309-18.
Nash M, Rafay MF. Craniocervical Arterial Dissection in Children: Pathophysiology and Management. Pediatr Neurol. 2019;95:9-18.
Hejrati N, Ebel F, Guzman R, Soleman J. Posttraumatic cerebrovascular injuries in children. A systematic review. Childs Nerv Syst. 2020;36(2):251-62.
Urasyanandana K, Songsang D, Aurboonyawat T, Chankaew E, Withayasuk P, Churojana A. Treatment outcomes in cerebral artery dissection and literature review. Interv Neuroradiol. 2018;24(3):254-62.
Buckingham MJ, Crone KR, Ball WS, Tomsick TA, Berger TS, Tew JM, Jr. Traumatic intracranial aneurysms in childhood: two cases and a review of the literature. Neurosurgery. 1988;22(2):398-408.
Fullerton HJ, Johnston SC, Smith WS. Arterial dissection and stroke in children. Neurology. 2001;57(7):1155-60.
Bechan RS, van Rooij WJ. Endovascular treatment of a ruptured flow aneurysm of the heubner artery as part of a moyamoya collateral network in a young patient with an occluded middle cerebral artery. Interv Neuroradiol. 2014;20(6):791-5.
Chamoun RB, Jea A. Traumatic intracranial and extracranial vascular injuries in children. Neurosurg Clin N Am. 2010;21(3):529-42.
Silva Neto AR, Camara RL, Valenca MM. Carotid siphon geometry and variants of the circle of Willis in the origin of carotid aneurysms. Arquivos de neuro-psiquiatria. 2012;70(12):917-21.
Requejo F, Ceciliano A, Cardenas R, Villasante F, Jaimovich R, Zuccaro G. Cerebral aneurysms in children: are we talking about a single pathological entity? Childs Nerv Syst. 2010;26(10):1329-35.
Rhoton AL, Jr. The supratentorial arteries. Neurosurgery. 2002;51(4 Suppl):S53-120.
Kim M, Lee HS, Lee S, Park JC, Ahn JS, Kwon DH, et al. Pediatric Intracranial Aneurysms: Favorable Outcomes Despite Rareness and Complexity. World Neurosurg. 2019;125:e1203-e16.
O'Neal CM, Ernst GL, Hughes KL, Stephens TM, Hendrix MC, Gross NL, et al. Reported incidence and treatment modalities of giant cerebral aneurysms in the pediatric population: A systematic review and illustrative case report. J Clin Neurosci. 2021;90:14-20.
Fleischer AS, Patton JM, Tindall GT. Cerebral aneurysms of traumatic origin. Surg Neurol. 1975;4(2):233-9.
Chen R, Zhang S, Guo R, Ma L, You C. Pediatric intracranial distal arterial aneurysms: report of 35 cases. Acta Neurochir (Wien). 2018;160(8):1633-42.
terBrugge KG. Neurointerventional procedures in the pediatric age group. Childs Nerv Syst. 1999;15(11-12):751-4.
Vargas SA, Diaz C, Herrera DA, Dublin AB. Intracranial Aneurysms in Children: The Role of Stenting and Flow-Diversion. J Neuroimaging. 2016;26(1):41-5.
Cherian J, Srinivasan V, Froehler MT, Grossberg JA, Cawley CM, Hanel RA, et al. Flow Diversion for Treatment of Intracranial Aneurysms in Pediatric Patients: Multicenter Case Series. Neurosurgery. 2020;87(1):53-62.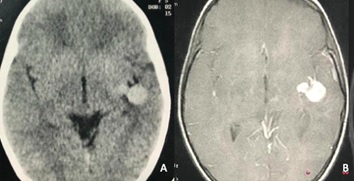 Downloads
How to Cite
1.
Silva Neto A, Alves FAS, Dantas MCS, Lima FRV, da Cunha GG, Moura FA de A. A Large traumatic middle cerebral artery aneurysm in a Child: case report and review of literature. Arch Pediat Neurosurg [Internet]. 2022 Jan. 31 [cited 2022 May 17];4(1(January-April):e1182022. Available from: https://archpedneurosurg.com.br/pkp/index.php/sbnped2019/article/view/118
Section
Clinical Case Reports
License
Copyright (c) 2022 Angelo Silva Neto, Felipe Augusto Silva Alves, Madson Caio Santos Dantas, Felipe Roham Vasconselo Lima, Gabriel Guedes da Cunha, Fernando Antônio de Araújo Moura
This work is licensed under a Creative Commons Attribution 4.0 International License.
When publishing in Archives of Pediatric Neurosurgery journal, authors retain the copyright of their article and agree to license their work using a Creative Commons Attribution 4.0 International Public License (CC BY 4.0), thereby accepting the terms and conditions of this license (https://creativecommons.org/licenses/by/4.0/legalcode).
The CC BY 4.0 license terms applies to both readers and the publisher and allows them to: share (copy and redistribute in any medium or format) and adapt (remix, transform, and build upon) the article for any purpose, even commercially, provided that appropriate credit is given to the authors and the journal in which the article was published.
Authors grant Archives of Pediatric Neurosurgery the right to first publish the article and identify itself as the original publisher. Under the terms of the CC BY 4.0 license, authors allow the journal to distribute the article in third party databases, as long as its original authors and citation details are identified.