Cerebral dysautonomy as a clinical repercussion in children with traumatic brain injury
Keywords:
Autonomic Nervous System, Brain injuries, Child, Primary dysautonomias
Abstract
Introduction: Dysautonomia or Paroxysmal Sympathetic Hyperactivity (PSH) affects more than 50% of patients suffering from severe traumatic brain injury (TBI), which is a major cause of morbidity and mortality in children under 12 years. The goal is to demonstrate that PSH is established as a consequence in children with severe brain trauma. 
Methodology: Forty articles were found in databases such as LILACS, Elsevier and Scielo that address the theme, excluding those that addressed the TBI in adults and including those that addressed the theme in the pediatric context and published about the PSH, published until the year of 2019.
Results: Severe TBI is established as a common cause of hospitalization of children and PSH as a common consequence. Diagnosis and management of this complication require the help of tools such as "PSH-Assessment Measure (PSH-AM)", which has criteria that facilitate the exclusion of other possible causes and guide the treatment. Non-pharmacological therapeutic measures include control of room temperature and low sensory and pharmacological stimuli to deal with symptoms, such as drugs such as opioids, gabaergic agonists, benzodiazepines and adrenergic antagonists. 
Conclusion: Severe TBI, a common pediatric emergency, can be considered a predictor of PSH. Even though there is no consensus on the diagnosis, PSH-AM proves to be a reliable alternative to professionals dealing with conditions that may or may not correspond with post trauma dysautonomia. This makes it possible to determine not only the child's clinical condition but also the best therapy to apply. 
Downloads
Download data is not yet available.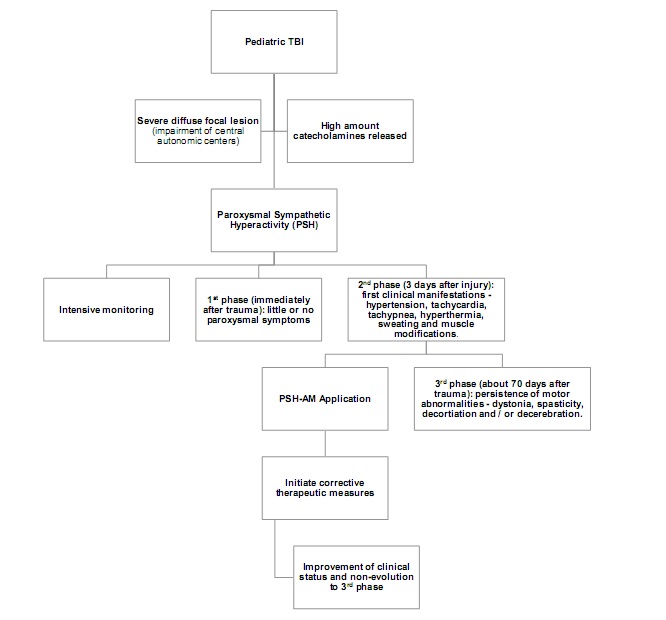 How to Cite
1.
da Silva JS, Pereira CU, Rabelo NN. Cerebral dysautonomy as a clinical repercussion in children with traumatic brain injury. Arch Pediat Neurosurg [Internet]. 2020Aug.1 [cited 2020Oct.1];2(2(May-August):e402020. Available from: http://archpedneurosurg.com.br/pkp/index.php/sbnped2019/article/view/40
Copyright (c) 2020 Archives of Pediatric Neurosurgery
This work is licensed under a Creative Commons Attribution 4.0 International License.
This work is available under the Creative Commons  4.0 International Public license (https://creativecommons.org/licenses/by/4.0/. By exercising the Licensed Rights, You accept and agree to be bound by the terms and conditions of this Creative Commons Attribution 4.0 International Public License ("Public License"). To the extent this Public License may be interpreted as a contract, You are granted the Licensed Rights in consideration of Your acceptance of these terms and conditions, and the Licensor grants You such rights in consideration of benefits the Licensor receives from making the Licensed Material available under these terms and conditions.