Migration of Ventriculoperitoneal Shunt Catheter into the Scrotum: A Case Report and Literature Review
Keywords:
Ventriculoperitoneal shunt, catheter migration, scrotum, hydrocele, inguinal hernia
Abstract
Introduction: The ventriculoperitoneal shunt is the most widely used surgical procedure for the treatment of hydrocephalus. It is associated with numerous mechanical complications, including distal catheter migration.
Case report: We present a case in which the peritoneal catheter migrated into the scrotum. The patient was admitted with asymmetric scrotal swelling and, during hospitalization, developed shunt dysfunction and infection. The shunt was withdrawn and treatment was initiated for infection. At the end of treatment, a new shunt was implanted and bilateral hernioplasty was performed by the pediatric surgery team. At follow-up, there was adequate head circumference growth and no testicular abnormalities.
Discussion: The procesus vaginalis is formed from the evagination of the peritoneum through the inguinal canal, leading to the descent of the testis during the embryonic period. The patency of this structure is the predisposing anatomical condition for the occurrence of inguinal hernia and for the migration of the shunt catheter into the scrotum. This condition is present in up to 80% of newborns and 60% of 1-year-old infants. The migration of the catheter commonly occurs until 12 months after surgery, typically on the right side.
Conclusion: The presence of scrotal swelling in a patient with ventriculoperitoneal shunt should warrant the investigation of catheter migration. 
Downloads
Download data is not yet available.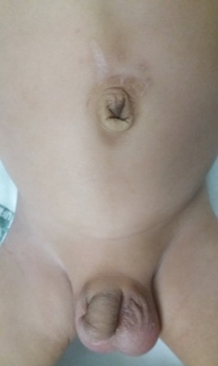 How to Cite
1.
Prates Junior AG, Medeiros Carrera Macedo FA, de Oliveira Vasconcelos e Sá E, Ribeiro Pinto AL. Migration of Ventriculoperitoneal Shunt Catheter into the Scrotum: A Case Report and Literature Review. Arch Pediat Neurosurg [Internet]. 2020Jun.18 [cited 2020Oct.1];2(2(May-August):e282020. Available from: http://archpedneurosurg.com.br/pkp/index.php/sbnped2019/article/view/28
Section
Clinical Case Reports
Copyright (c) 2020 Archives of Pediatric Neurosurgery
This work is licensed under a Creative Commons Attribution 4.0 International License.
This work is available under the Creative Commons  4.0 International Public license (https://creativecommons.org/licenses/by/4.0/. By exercising the Licensed Rights, You accept and agree to be bound by the terms and conditions of this Creative Commons Attribution 4.0 International Public License ("Public License"). To the extent this Public License may be interpreted as a contract, You are granted the Licensed Rights in consideration of Your acceptance of these terms and conditions, and the Licensor grants You such rights in consideration of benefits the Licensor receives from making the Licensed Material available under these terms and conditions.