Management of hydrocephalus in a pediatric bifocal germinoma
Keywords:
hydrocephalus, tumor, germinoma
Abstract
Germinomas represent the most frequent tumour type in the pineal region. However, the synchronous involvement of the suprasellar region, frequently termed bifocal intracranial germinoma (BFG) is quite rare. A literature search identified a further of 48 pediatric cases with a median age of 12.9 years. BFG is known to be highly radiosensitive. We presented a clinical case of pediatric bifocal germinoma. A 14-year-old boy presented with clinical features of progressive headaches since three months associated with vomits. MR showed two distinct lesions in the pineal and suprasellar regions. Neuroaxis spine MR was normal. Tumor markers for germ cell tumors from blood and cerebrospinal fluid were within the normal range. An endoscopic procedure was performed to treat the hydrocephalus (endoscopic third ventriculostomy) and, in the same procedure the suprasellar lesion was biopsied and the histology revealed a germinoma. She received chemotherapy and a focal radiotherapy covering the sites of primary disease and the ventricular system. Three months after the completion of treatment, the patient achieved a complete clinical and radiological response, which was maintained during the 5-years follow-up period. The optimum management of primary intracranial pineal and suprasellar (bifocal) germinomas still remains controversial. The definition as either localized or disseminated disease has major implications on required treatment and its associated late morbidity. Prospective studies with large cooperative groups worldwide and consensus meetings may reduce uncertainties regarding available management options.
Downloads
Download data is not yet available.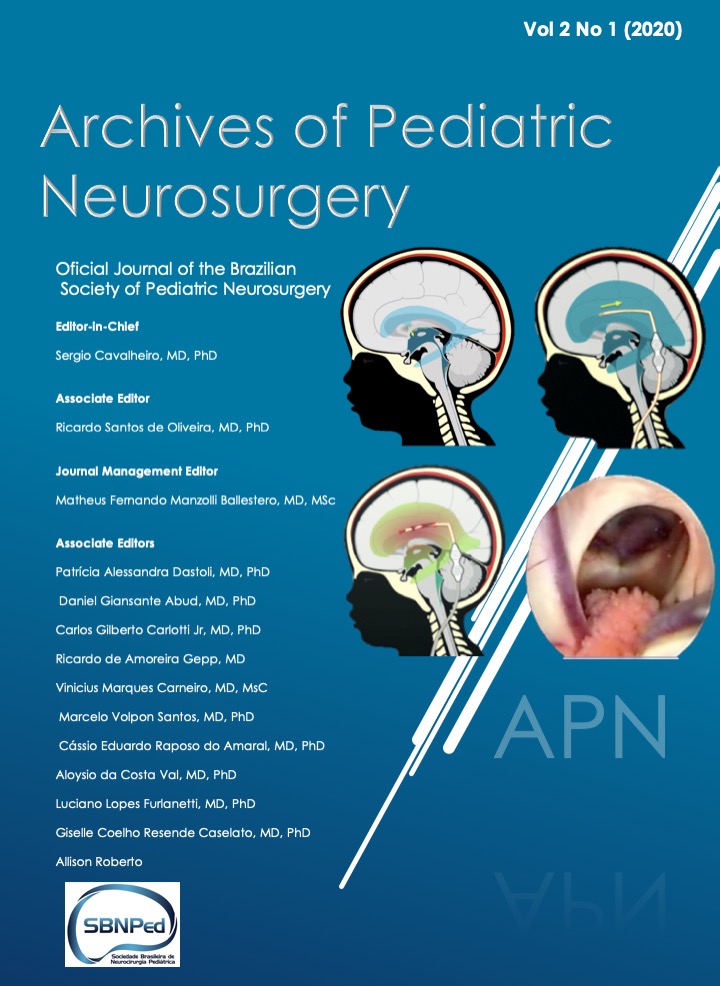 Downloads
Published
2020-04-01 — Updated on 2020-04-01
How to Cite
1.
de Oliveira RS, Pongeluppi RI, Valera ET. Management of hydrocephalus in a pediatric bifocal germinoma . Arch Pediat Neurosurg [Internet]. 2020 Apr. 1 [cited 2022 Aug. 17];2(1(January-April):55. Available from: http://archpedneurosurg.com.br/pkp/index.php/sbnped2019/article/view/22
License
Copyright (c) 2020 Ricardo Santos de Oliveira, Rodrigo Inácio Pongeluppi, Elvis Terci Valera
This work is licensed under a Creative Commons Attribution 4.0 International License.
When publishing in Archives of Pediatric Neurosurgery journal, authors retain the copyright of their article and agree to license their work using a Creative Commons Attribution 4.0 International Public License (CC BY 4.0), thereby accepting the terms and conditions of this license (https://creativecommons.org/licenses/by/4.0/legalcode).
The CC BY 4.0 license terms applies to both readers and the publisher and allows them to: share (copy and redistribute in any medium or format) and adapt (remix, transform, and build upon) the article for any purpose, even commercially, provided that appropriate credit is given to the authors and the journal in which the article was published.
Authors grant Archives of Pediatric Neurosurgery the right to first publish the article and identify itself as the original publisher. Under the terms of the CC BY 4.0 license, authors allow the journal to distribute the article in third party databases, as long as its original authors and citation details are identified.