Interhemispheric transcallosal transchoroidal approach for resection of a mesencephalic lesion
Keywords:
Tumor, transchoroidal approach, mesencephalon
Abstract
A 12 years old boy presented with strabismus, left third nerve palsy (ptosis, mydriasis, downward and abducted eye), and vertical conjugate gaze paresis. A brain magnetic resonance image revealed a brainstem solid cystic tumor in the mesencephalic tegmentum, with compression of the aqueduct of Sylvius and associated supratentorial ventriculomegaly. The patient underwent an interhemispheric transcallosal transchoroidal approach for a subtotal resection of the mesencephalic periaqueductal lesion. The pathology report was a low grade neuroepithelial tumor. The patient evolved with no new neurological deficits.
Downloads
Download data is not yet available.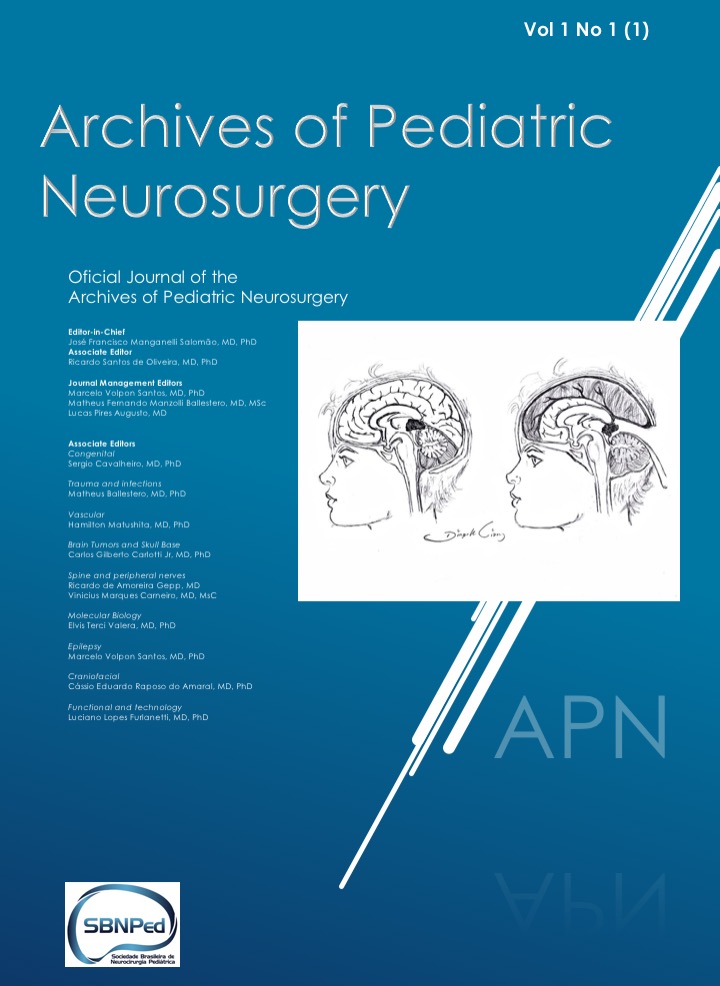 Published
2019-12-16 — Updated on 2019-12-16
How to Cite
1.
Augusto LP, Ballestero MFM, de Oliveira RS. Interhemispheric transcallosal transchoroidal approach for resection of a mesencephalic lesion. Arch Pediat Neurosurg [Internet]. 2019Dec.16 [cited 2021Nov.28];1(1(September-December):28. Available from: http://archpedneurosurg.com.br/pkp/index.php/sbnped2019/article/view/10
Copyright (c) 2019 Lucas Pires Augusto, Matheus Fernando Manzolli Ballestero, Ricardo Santos de Oliveira
This work is licensed under a Creative Commons Attribution 4.0 International License.
When publishing in Archives of Pediatric Neurosurgery journal, authors retain the copyright of their article and agree to license their work using a Creative Commons Attribution 4.0 International Public License (CC BY 4.0), thereby accepting the terms and conditions of this license (https://creativecommons.org/licenses/by/4.0/legalcode).
The CC BY 4.0 license terms applies to both readers and the publisher and allows them to: share (copy and redistribute in any medium or format) and adapt (remix, transform, and build upon) the article for any purpose, even commercially, provided that appropriate credit is given to the authors and the journal in which the article was published.
Authors grant Archives of Pediatric Neurosurgery the right to first publish the article and identify itself as the original publisher. Under the terms of the CC BY 4.0 license, authors allow the journal to distribute the article in third party databases, as long as its original authors and citation details are identified.